Welcome to Pogradec website !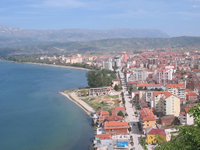 The city of Pogradec and its surrounding area, as one of the Albanian beauty pearls, provides much to discover for its visitors. The region dominated by the fantastic Ohrid Lake, surrounded by fields nestled before picturesque mountains, will be your panorama throughout your holidays in Pogradec. The harmony of nature, and the friendliness of the inhabitants, will bring you back again and again.
The sunny days at the beaches along the lake, the strolls along the promenade, as well as the various specialty dishes and local wine enjoyed in the restaurants will provide unforgettable moments for you
Pogradeci is one of the most charming tourist resorts in Albania because of its position near the Ohrid Lake, which distinguishes itself for clear water. Fish Koran, which is similar to the trout, is reared in this lake. Besides the beautiful beach, your staying in Pogradec is made more interesting by the excursion to the tourist center of Drilon (5 km eastward) with crystal clear fountains that fill the beautiful channels surrounded with trees and by ornamental plants.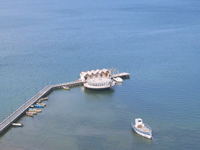 Lake Ohrid and its surrounding area shines as a splendidly unique ecosystem. Due to its historic culture and its unique flora and fauna, in 1980, Pogradec was declared by UNESCO as a place of worldwide natural and cultural heritage
For everybody , during all four seasons, this city offers opportunities to relax and have fun. This may be the reason why more and more people return again and again to Pogradec .

Pogradec.info provides you with all the information you need to know about the city of Pogradec, including general information, Pogradec hotels and accommodations, transportation, taxi, places to go, Pogradec art and culture, museums, galleries, entertainment, business, dining , Pogradec restaurants, bars, pubs, night clubs, Pogradec shops, Pictures of Pogradec, the weather, lule natyrale , camping car rei,hotel pogradeci, hotel enkelana, hotel perla, pojske, useful visitors' tips and more.