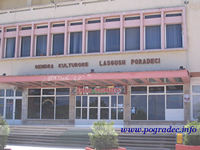 Pogradec is a town of Art, Culture and Tradition. Pogradec is a town of great writers, like Lasgush Poradeci and Mitrush Kuteli, and is a town of well known painters like Taso, Lako and more.
Photographers like Ardi Fezollari with their cameras bring to you charming and wonderful moments of Pogradec.
Handycraft with an old tradition in this area is represented by artists like Icka, Basho , and many others.
All kinds of sports are practiced in Pogradec, but the most popular are soccer, mini football, beach volleyball, boxing, basketball and water sports.
Pogradec has a football team, still in second category, and a mini football team in first category. The boxing team "Dragoi" , has always trained champions.
The Pogradec Region has rich folklore traditions, with many songs and dances featuring outstanding lyrics and melodies. Traditional folklore is evolutionary. It is made more poetic by the natural surroundings of the city. All dance and songs of this region seem to have origins from the marvelous lake and our love of nature.
Pogradec is not only famous for its nature and folklore, but also for its well known "Puppet Theater Festival."
This tradition began first as a national initiative , then became a Balkan initiative and has now risen to the European level. The puppets "Tom and Jerry" "Working Ants" and "Lightning Bugs", bring joy to children around the world.
For everybody, during all four seasons, this city offers opportunities to relax and have fun. This may be the reason why more and more people return again and again to Pogradec.
__________________________________________________

Pogradec.info provides you with all the information you need to know about the city of Pogradec, including general information, Pogradec hotels and accomodation, transportation, taxi, places to go, Pogradec art and culture, museums, galleries, entertainment, business, dining , Pogradec restaurants, bars, pubs, night clubs, Pogradec shops, Pictures of Pogradec, art and culture in pogradec, handycraft