Dear readers, we cordially welcome you to this lovely region where you will be warmly greeted by our hospitable local people.
While you enjoy our culinary delicacies, we will toast you with a glass of homemade wine, or raki in which you will be able to feel warm sun rays and relish its noble bouquet and the careful cultivation of our winegrowers.
If you want to Book a Hotel, or you just need some information, please feel free to contact us. We will do the best for your satisfaction.
Or contact us at :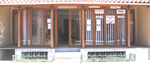 Qendra " InkuSat Cyberspace "
Address: Rr. Reshit Collaku, Pallati 23, Lagja1, Pogradec, Albania
Tel: 00355696070855
__________________________________________________
Pogradec.info provides you with all the information you need to know about the city of Pogradec, including general information, Pogradec hotels and accomodation, transportation, taxi, places to go, Pogradec art and culture, museums, galleries, entertainment, business, dining , Pogradec restaurants, bars, pubs, night clubs, Pogradec shops, Pictures of Pogradec, travel agencies, travel agents, tourist information.