Pogradec, it is a city and region with endless possibilities for your enjoyment! It is the right place for tourists of all ages, from one day stays to long holidays, and for honey mooners as well. People are friendly and don't be surprised if they invite you for a drink and some sweet, home made cookies. Walking around, you can discover Pogradec yourself, but we try here to make some suggestions for you:
• Pogradec
Pogradec Art Gallery - It is situated in the center of the town. It has works from well known Pogradec painters. You can visit it from 9.00 - 16.00
"TASO" Art Gallery -You can visit Anastas Kostandini studio admiring his paintings and also you can buy his works.
"ICKA" Handycraft - Handycraft has a good tradition in Pogradec and "ICKA" studio it is always open for you. Its works of wood will impress you.
Pogradec MUSEUM - Pogradec has a rich museum with antiques and ancient testimonials. It is open from 9.00 - 16.00.
Pogradec CHURCHES - Pogradec has an old Orthodox Church, the Church of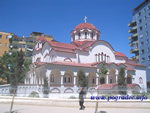 "Saint Maria" situated in the old part of the town, and a new build Church called the Church of "Resurrection" .
Pogradec Mosque - Pogradec has two Mosque, one in the Center of the town and the other in the hill, part of old Pogradec.
Pogradec CINEMA - Pogradec has a modern cinema where new movies are played there every day. It is situated in the Center of the town.
Pogradec pARKS - You can walk across the lakeside in the promenade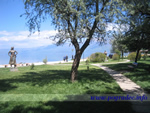 "1 Maji", enjoying the freshness of trees and a wonderful view. Here is a 5 km boulevard bordering the lake, where you can find bars with live music, hotels, motels, cafes, and restaurants according to traditional and modern tastes. Visiting Drilon, 4 km from Pogradec, is always a great pleasure.
If you have other wishes you can go to characteristic Pogradec houses , surrounded by flowers and trees, a tradition that has been kept strong through the years.
Pogradec BEACHES - Pogradec Beach it is situated in center of town and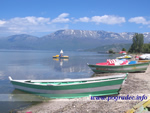 continue with "1 Maji" promenade. It is very popular and has a lot of sand. In the town there are several beaches, private and public with sand and little rocks. Water is very clean .
Pogradec boats - There are several little and big boats across the Pogradec Lake. You can rent them and you can choose a boat with a driver or you can surf yourself.
Pogradec SPORT PLACES - There are several places where you can practice sports, like football - Kalceto "Bruklin", beach-volley, basketball and more. At the Pogradec Beach you can participate in beach - volley competitions.
Pogradec MARKET - Pogradec market is open from 8.00 - 16.00 . You can walk around, look, and buy souvenirs from Pogradec.
Pogradec at night - In the center of Pogradec, at the place called "Odeoni," cultural events are organized every evening during the summer. Free entry.
There are some Pubs in Pogradec that are open every night from 20.00 -03.00 . They offer music and cocktails. You should be part of the fest
__________________________________________________
• Lin
The lakeside village of LIN is a charming opportunity to see Lake Ohrid life from a traditional perspective. Winding streets lined with old style stone, wooden and brick houses lead to the site of an ancient basilica with 8 colorful mosaics showing fish, water birds and bees, dating from the 5th Century. The Byzantine church ruins, under World Heritage protection, have a modern cover constructed to keep the treasures from further deterioration while awaiting further exploration. The Lake Ohrid and mountain vistas from the top of the hill are outstanding!
__________________________________________________
• Selca
Five ancient tombs and monuments dating from the 4 th Century B.C. are found in Selca, site of the ancient settlement of Pelion (where Illyrian King Klit dwelled). Other remains date from the Bronze Age through the middle VI th Century A.D. including Ionic treasures, bronze and pottery objects, weapons and articles of gold. You will feel that you've discovered a lost treasure when you visit this important place!
__________________________________________________
• Golic Bridge
The Golic Bridge spans the wild Shkumbin River and dates back to the XVII Century. This old double-span stone structure is situated along the ancient Egnatia Road, near Golic, which is a charming village in the heart of the Mokra region. Along the road to Golic, you will enjoy breathtaking views of waterfalls and mountain scenery from deep valleys. In taking this trip, you will trace the steps of many ancient people, who over the centuries walked, defended, and traveled through the region!
__________________________________________________
• Shkumbin River
This is one of the longest rivers in Albania with very clear water that flows through stunning scenery. The river has its headwaters near Guri i Topit on the Mokra Mountain, district of Pogradec and flows to the Adriatic Sea. Different kinds of fish, with trout among them, live in its waters, which makes possible sport fishing while some parts of the river are suitable for boat or raft drifting.
__________________________________________________
• Tushemisht/Drilon
Just 4 kilometers away in Tushemisht you can see the DRILON tourist resort, named for the fresh water springs and Drilon River. The many decorative trees and plants are in full harmony with Drilon's clear water springs, strolling paths, characteristic bridges and bird life. Tushemisht has a special history because both King Zog and the former dictator of Albania, Enver Hoxha enjoyed summers in this special place. You can visit this house, now converted to a hotel and restaurant with fine local and continental cuisine!
__________________________________________________
• Kabashi Springs
Only 2 kilometers from Pogradec, climbing the hill you will discover a wonderful place for picnics. With fresh fountains and prairies this is the right place for B.B.Q.
__________________________________________________
• Potkozhan
This is a very interesting village in the district of Pogradec. The houses are very beautiful, made of stone and roofed with stone tiles. The streets among them are narrow and paved with cobble stones, while grapes and mulberries climb the walls and hang over the streets. The hospitable people of the village offers accommodation for tourists in their houses and tasty home made food with various local specialties. Around the village it is church of St Paraskeva , known as Shen Premte among the local people, there is a graveyard with beautifully engraved stone crosses.
__________________________________________________
• Saint Bitri Church
The medieval church of Shen Bitri , as the locals use to call this St. Demetrios' church, is several hundred meters away from the village Potkozhan. This small stone building, roofed with stone tiles is very unique because of its two apses on the eastern side and very specific wall painting in its interior. Although the frescoes are damaged, you can still admire the beauty and mystery of the saints pictured on its walls.
__________________________________________________
• Saint Marena Church
The church and monastery of Saint Marena is situated in the north of the village of Llenga, district of Pogradec with a dominated position on the slope of the mountain. The church is a small building, 12 to 8 meters. The altar is separated from the nave with a wooden iconostas 6m wide and 4m high. The icons is engraved and polychrome with floral motives. All the interior of the church is covered with frescoes that belong to the hand of the headmaster of these areas Kostandin Shpataraku.
__________________________________________________top
Pogradec.info provides you with all the information you need to know about the city of Pogradec, including general information, Pogradec hotels and accomodation, transportation, taxi, places to go, Pogradec art and culture, museums, galleries, entertainment, business, dining , Pogradec restaurants, bars, pubs, night clubs, Pogradec shops, Pictures of Pogradec, the weather, useful visitors' tips and more.