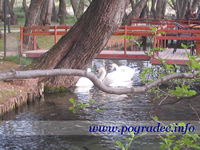 Drilon and Tushemisht are the most beautiful tourist centers in Albania, situated 4 km from Pogradec, across the Ohrid Lake.
The paths, bridges, swans, ducks and doves increase the splendor of this dreamy scene. Whispering leaves, bird songs, green fern seedlings and shoots, slow moving water, boats, ducks, swans groves of weeping willow trees and people's joyful voices make this place a preferred Albanian destination.
Drilon offers endless choices to have a nice day.
__________________________________________________
Hotel Rritja e Koranit

- In the most beautiful and relaxing site of the Tourist village Tushemisht, close to Drilon, 5 km from Pogradec, the Hotel Rritja e Koranit offers its service for unforgetable holidays. More Info.....
__________________________________________________

Pogradec.info provides you with all the information you need to know about the city of Pogradec, including general information, Pogradec hotels and accommodation, transportation, taxi, places to go, Pogradec art and culture, museums, galleries, entertainment, business, dining , Pogradec restaurants, bars, pubs, night clubs, Pogradec shops, Pictures of Pogradec, the weather, useful visitors' tips and more.