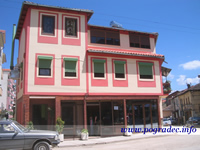 Private Accommodation in characteristic Pogradec houses, surrounded by flowers and trees, a tradition that has been kept strong through the years, is the best way to try Pogradecars hospitality.
In the villages located directly at the lakes shores there are many family houses that have been adapted for reception of tourists, willing to spend their holiday in an authentic village environment. The thick stone walls of these houses, offer freshness in the hot summer days, but also a pleasant warmth next to the fireplaces in the colder months. The hospitable owners are always prepared to offer traditional food along with the accommodation.
The toursit can also prepare their own food using product that can be found on the local markets. If they wish they can also participate in the daily activities of the host family.
__________________________________________________
__________________________________________________

Pogradec.info provides you with all the information you need to know about the city of Pogradec, including general information, Pogradec hotels and accomodation, transportation, taxi, places to go, Pogradec art and culture, museums, galleries, entertainment, business, dining , Pogradec restaurants, bars, pubs, night clubs, Pogradec shops, Pictures of Pogradec, the weather, useful visitors' tips and more.